Working with State (or other choice lists) in ServiceNow
October 29, 2012, 12:42 pm - James Farrer
A few days ago I ran into a problem again and in trying to understand it better Mark Sandner and I did some testing and found out how to make changes to the options so that other tables are not affected.
So a little background on what's going on. When working with choice lists (a.k.a. drop-downs) for extended tables the options can be shared from the top down. One of the biggest examples is the State field on the task table. Having this field in common across all task tables makes a ton of sense, but having the values be the same usually doesn't. Sometimes you'll want Work in Progress, sometimes you just want Open. Pending only applies to some circumstances.
The way the choice fields are set up the extended tables can have their own options for the drop-down. The issue is that if you just take the options that are used on the task table and move them over in the sluchbucket then it deactivates the option for all tables that are using it.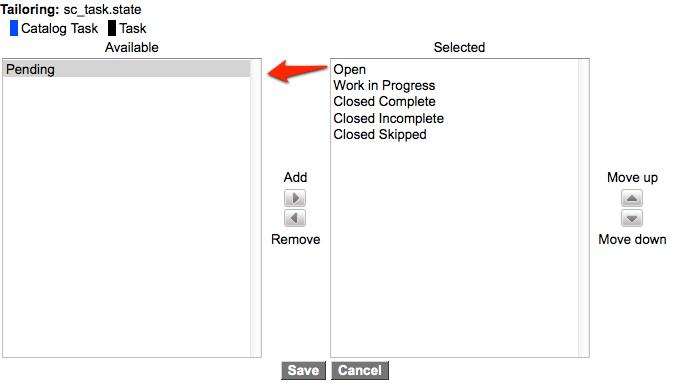 The good news is there's an easy way to work around this issue.
If before deactivating anything you first add a duplicate option that is specific to the table, then the system will duplicate all of them, but specific to the table so you can then safely deactivate or change them as needed.
So first add a duplicate option, I used "Open" with the value of 1 like this:

Then save the options with it showing a duplicate.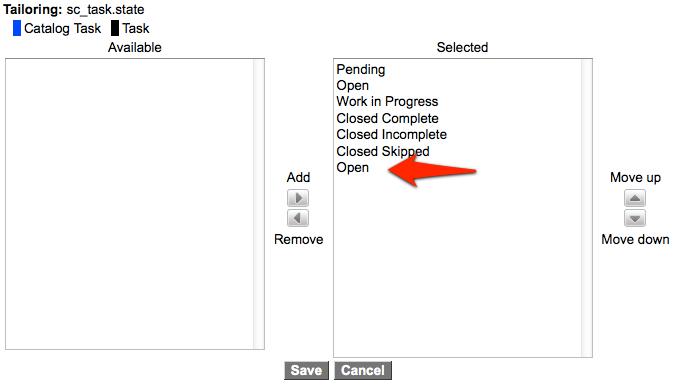 When you save the changes it will create the duplicates. Then the next time you go to Personalize the choices it will show the same options, but this time they will be specific to the table and you can deactivate them, change them, or add new ones without causing a problem to other tables.